Akhil And Family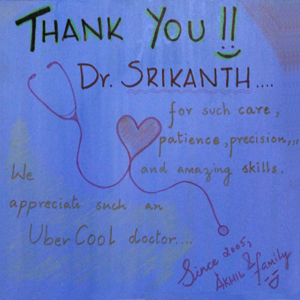 - Akhil And Family
Kavita
"Thank you so much for working your surgical magic on my Eyebrow. I have been having a tough time explaining my 2 week of absence from work as my colleagues don't see any visible / Obvious scars from the surgery. My new year is off to a great start thanks to you and your staff. Wish you a new year filled with much success and happiness."
- Kavita
Vaidehi Bhaskara
"Thank you so much for giving my finger a second innings. Without your presence, I am sure it could not have happened. Your calmness and pleasing demeanour removed all my anxieties, I was thus valiant before entering the operation theatre. You have bestowed a lot of confidence in me and are indeed an inspiration. I had a dream to become a Neuro surgeon, and my determination strengthened after meeting you. Thank you so much for making all of us feel stronger. I cant imagine how everything would have turned out, if you were not my Surgeon."
- Vaidehi Bhaskara
Al Idina
"Dr Shrikanth has wonderful team. We would like to appreciate your expert loving care compassionate understanding of patients limitations. Professional guidance of newer methods of speedy wound healing,Encouraging words of hope Smiling welcome. May god bless you all with more success."
- Al Idina & Family
Akanksha
"Today I want to thank you for the hours long plastic surgery and all other treatments post my accident done by you to heal my wounds wishing you all the best in all your endeavours"
- Akanksha
Molly Samuel
"Just to say a big thank you for the surgery you did on my Ear the other day. Kindly accept a small gift I am sending through Dr Suzanne John my Daughter. Thanking you once again with good wishes and God Bless."
- Molly Samuel
Rekha
"I had consulted Dr. Srikanth for sebaceous cyst surgery (on my face). He was very approachable, kind and considerate. I thank Dr. Srikanth for attending my case. His experience and confidence combined with his genuine care for patient's comfort and well being, made surgery look like a pleasant experience with no worries at all. Both the surgery and recovery were very smooth."
- Rekha (Bangalore)
A PAINLESS TREATMENT
"Hi, I am a 28 year old male, went thru a FUE procedure of around 1300 grafts on my crown by Dr Ashok and Dr Srikanth at Clinique Belle. Honestly, This was the best experience I had comparing my first FUT hair transplant a year ago at a different hair transplant clinic!
Unlike the FUT process, FUE is completely painless surgery performed by local anesthesia which leaves no scars on ur scalp.
The procedure started at 8:30 am and ended at 3:00 pm wit half an hour of break thanks to both the doctors and crew who completed the surgery with extreme diligence and steadfastness. Unlike other hair transplant clinics where they don't give u much importance, do a quick job and send u home.
Everyone made it such an easy experience to go through. And Dr. Ashok and team were fantastic from start to finish in the way he explained the process and carried it out. He's also so energetic and genuinely interested in patients' needs and their success.Everything about the procedure pre-op and post-op were explained to me verbally and given to me in the form of hand outs. I must say, the post op results of my surgery were very neat and satisfying and totally worth the money.
I would definitely go through the experience again, and I highly recommend him to everyone who's interested in hair restoration.
- MAJID KHAN
Harish
"In 2010 I was almost bald in the front. Dr Srikanth and his team at Clinique Belle did the rest of the magic. Today after two sittings at the hair transplant clinic, my bald patch is Gone."
- Harish Padmanabhan ( Bangalore India)
Deepak Srinivasan
"I have had my hair transpalantation at Clinique Belle and am extremely satisfied with the results.I was not aware that the procedure was so simple and effective. My experience has been extremely pleasant at the clinic and the staff are professional and courteous in their approach. I will recommend their clinic to anybody wanting solutions for hair loss."
- Deepak S (Cincinati, USA)
Kanchan
"We were enjoying at a resort and all of a sudden at 1pm my daughter's index finger got jammed at the door. It was a horrifying sight- the tip of the finger was almost separated. I called Dr Srikanth and everything happened in the next few hours(us rushing to hospital, Dr Srikanth rushed back from the highway to the hospital(Dr. Anupama too). Today-my daughter's index finger is just normal. Thanks to Dr Srikanth and his team!"
- Harish, Ramya and Kanchan (Bangalore,India)
Ruth Mkaratigwa
"Dr. Srikanth and Plastic surgery team,
For everything you have done for me,giving me lots of reason to smile,for supporting me,for walking with me every mile,for making everything so easy for me, for making my world a better place ..Thanks a lot
Your forever grateful patient"
- Ruth Mkaratigwa (Zimbabwe)
Draupadi Tripathi
"The holes in my ear lobes were stretched out to the extent that wearing earrings were almost not possible. I had my surgery at Clinique Belle and had my ear lobules repaired. Now my ear lobes are normal and I am wearing normal earrings. Thank you Dr. Srikanth and Clinique Belle for a wonderful job."
- Draupadi Tripathi ( Mumbai, India)
Padma Srinivasan
"To Dr. Anupama and the OT team. wish you warmest thanks and appreciation for your thoughtfulness."
- Mrs Padma Srinivasan (Bangalore)